Ft. Fairfield, Maine - Four Falls, New Brunswick
1.800.980.8747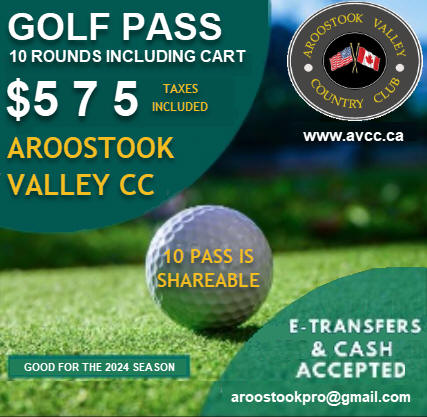 Calendar | Tee Times | Skins | Men's Night | Access to AVCC
AVCC Directors
| Information
| History |AVCC Tour
---
2023 Pro-Manager Report
(November 25 - AGM)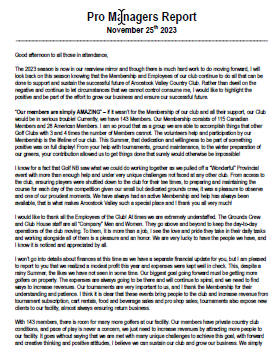 click image to expand
It is at Aroostook Valley Country Club where the Stars and Stripes and Maple Leaf fly side by side; where you can tee off on holes #1 (The International), #2 (The Grove) or #9 (Old Ironsides) and literally hit it "out of the country". It is where the US-Canada international boundary divides our 18-hole golf course and clubhouse in Canada from our Pro Shop and parking lot in the USA. Since 1929 the relationship we have enjoyed as international neighbours has been outstanding. In the fall of 2012, AVCC was recognized by Reader's Digest-Canada as one of the 13 most unique golf courses in Canada.

AVCC is a semi-private club located in a beautiful rural setting overlooking the Aroostook River between the small towns of Ft. Fairfield, Maine and Four Falls, New Brunswick. We welcome you to our website and we also extend an invitation to you to visit our facility (April-October) to play golf and/or practice on our newly improved driving range and large putting green. Or, simply enjoy some relaxed leisure time, not to mention the great menu (click here), in our clubhouse or on our spacious, canopied deck. Whether a member or guest we are confident you will enjoy the atmosphere at AVCC.

We welcome new members and offer a wide variety of membership options. For further information on membership or other matters, contact us or visit our General Information page.
• PO Box 327, Fort Fairfield, Maine 04742
• PO Box 3201, Perth-Andover, NB E7H 5K3
1.800.980.8747 - 506.273.9184 - 207.476.8083

Photos courtesy of Michele Hatchard
Aroostook Valley Country Club